TE-125AP
NC Rotary Table (0.001°)
TE-125AP
Practical Type Series
The feature of wear resistant alloy Dual-Lead Worm Gear.
Easy adjusted on the backlash.
The faceplate can separate with the table to save the space.
It can be connected with CNC machine as a 4th Axis or matched with Single Axis Controller as an additional Axis.
Minimum increment unit : 0.001°.
Use Method
Vertical / Horizontal Use
Clamp Method
Pneumatic 5kg/cm2
Faceplate Dimension
Ø125mm
Spindle Through Hole Diameter
Ø15mm
Faceplate Centre Hole Diameter
Ø22H7mm
Centre Height
110mm
Faceplate T-Slot Width
12H7mm
Position Key
14h7mm
Servo Motor
• FANUC
α2i / β2i
•MELDAS
HF44T/HF-75S
Total Speed Reduction Ratio
1/45
Min. Increment Unit
0.001°
Indexing Accuracy
90 (Arc. Sec.)
Repeatability
4 (Arc. Sec.)
Clamp Force
8kgf-m
Max. Torque Capacity of Worm Gear
15kgf-m
Max. Workpiece of Capacity
• Workpiece Vertical
(With Tailstock)
20(50)kg
• Horizontal
50kg
Net Weight (Without motor)
19kg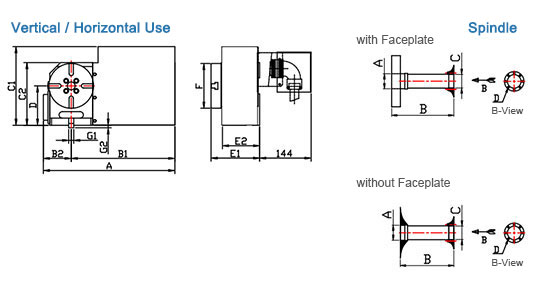 Unit: mm
The outline of dimension
TE-125AP
Servomotor cover type
A
B

1

B

2

C

1

C

2

D
E

1

E

2

F
G

1

G

2

Vertical / Horizontal Use
368
290
60
240
175
110
131
106
Ø125
M14
7
Unit: mm
Spindle Dimension
Faceplate
A
B
C
D
Yes
Ø22 X 18L
130
Ø15 X 20L
4-M4X 10L,Ø23.5
No
Ø26 X 23L
112
Ø15 X 20L
4-M4X 10L,Ø23.5